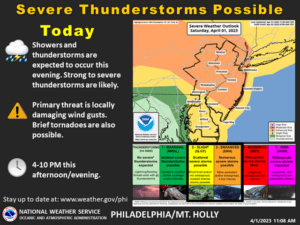 Confidence is increasing in a potentially significant severe weather event affecting our area today. The Storm Prediction Center now has part of the area in an Enhanced (3/5) Risk for severe weather today. This means numerous severe storms are possible. The main threats are damaging winds and possible tornadoes.

4.1.23 - Weather Briefing Update
Click to view the most current information available. https://highlandsborough.org/4-1-23-weather-briefing/

Please take the proper precautions to keep yourself and your property safe.

Hazardous Weather: Strong winds and severe thunderstorms

Locations affected: Eastern Pennsylvania, New Jersey, Delaware, and the eastern shore of Maryland

Timing: 4 to 10 PM

Impacts: Strong winds may result in downed trees, power outages, and isolated structural damage.

Confidence on occurrence: Confidence is high in the occurrence of thunderstorms and windy conditions outside of thunderstorms. Moderate confidence in the coverage of severe thunderstorms.