Highlands First Aid Squad serves the 5,000 residents of the Borough of Highlands, New Jersey as well as providing mutual aid to surrounding shore communities. We are a small but very capable, all-volunteer squad, providing 24-hour EMS coverage to the residents of Highlands. We rely on the generous support of you –our local businesses, residents, neighbors, friends, and family.
---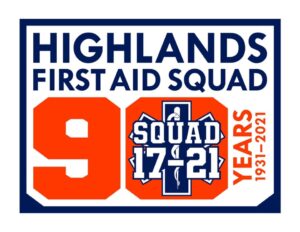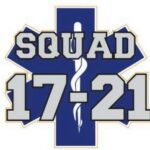 32-34 Valley Street
Highlands, NJ 07732
Email: highlandsems1721@gmail.com
Phone: (858) 300-2505
Facebook: www.facebook.com/HighlandsFirstAidSquad
The Highlands First Aid Squad is always seeking new members who are interested in making a difference within their community. No experience is necessary and free training will be provided. To apply, download an application.
LINE OFFICERS
Chief
Bill Mount
Captain
Warren "Jay" Terwilliger
First Lieutenant
Nicole Ziegler
EXECUTIVE OFFICERS
President
Rosemary Ryan
Vice President
Warren "Jay" Terwilliger
Treasurers
Cody Valkos
Secretaries
Marcy Mount – Corresponding
Chris Francy – Recording
Trustees
Larry Chesal
Bryan Foeri
Nancy Tran
---
MEMBERS
Regular Members
Christian Castro
Larry Chesal
Bryan Foeri
Bill Mount
Marci Mount
Neriko Musha Doerr
Rosemary Ryan
Paul Sully
Jay Terwilliger
Nancy Tran
Cody Valkos
Nicole Ziegler
Associate Members
Paul Murphy
Life Members
Tara Adams
Diane Alvator
Michael Britton
John Coberg
Kyle Ebbets
Kerry Gowen
Wally Hartsgrove
Freddy Katz
Walter Katz
Lawrence Kelly
Bronwyn Link
Al Marker
Mary Nicols
Dave Parker
Roger Printz
Papa Jack Shephard
Jay Terwilliger
Ray Vargas
---
COMMITTEES
By-Laws
House & Building
Membership
Fundraising
Fund Drive