11jul6:00 pm7:00 pmTeen Travel Club - 1st meeting
Event Details

OPEN TO ALL BAYSHORE AREA RESIDENTS

Scroll down to RSVP

****************************************************

Ages 13-18

Both parents and teens alike often find the idea of teenagers traveling the world daunting and sometimes even scary! It's easy to let these fears hold us back and prevent us from seeing all of the awesome ways that teen travel can transform teens into amazing young people. These reasons for teens to travel are learned by everyone in their own individual way, providing teens of all ages with invaluable experiences that will last a lifetime.

Traveling is important as it teaches meaningful life skills, provides an opportunity to meet new people, facilitates cultural appreciation, and teaches the ability to adapt to new environments. Travel is a fantastic way of gaining these unique experiences which develop youth into more well-rounded citizens, all while having fun along the way!
TEEN TRAVEL CLUB – 1st meeting
Discuss travel options for summer 2023.
 Montreal & Quebec
US National Parks
California
Puerto Rico
Work on fundraising.
Approximate cost $2800 per traveler before fundraising efforts.
THIS IS NOT A PARENT MEETING.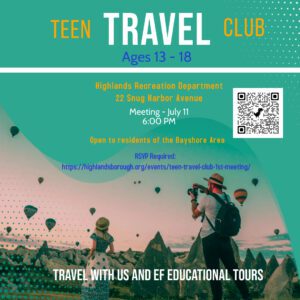 RSVP Now
RSVPing is closed at this time.
Can not make it to this event?Change my RSVP
Time

(Monday) 6:00 pm - 7:00 pm