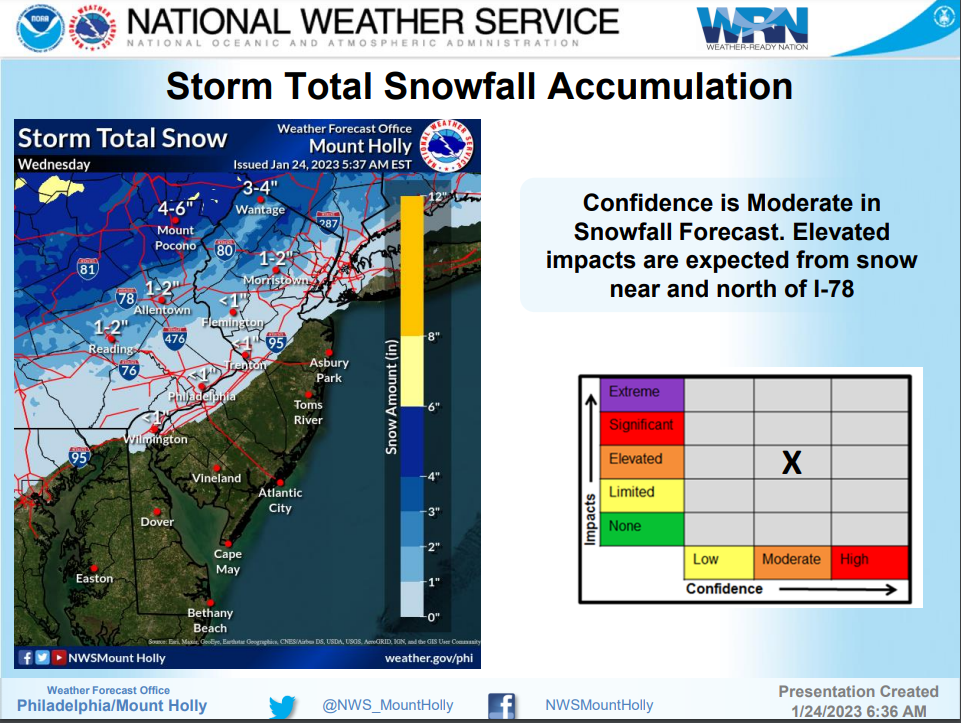 Weather Update: 1.24.23 – AM Briefing
EVENT SUMMARY
✔ Precipitation will begin Wednesday morning and continue through Wednesday night.
Precipitation will begin as mostly snow northwest of I-95 and as rain southeast of I-95. A
burst of moderate to heavy snow with rates potentially exceeding 1" per hour may
impact the morning commute along and north of I-78. The snow will change over rain
from south to north into the afternoon and evening, possibly mixing with sleet and/or
freezing rain at times as it does so. A Winter Weather Advisory has been issued along
and north of I-78.
✔ South to southeast winds will increase to 25-35 mph Wednesday night along the Atlantic
coast. Gusts up to 50 mph are possible. For inland areas, wind gusts of 30-35 mph are
expected Wednesday night.
✔ Strong westerly winds 15-25 mph will develop on Thursday area-wide with gusts of
35-40 mph expected.
✔ Gale force winds are likely across all Atlantic coastal waters and Delaware Bay
Wednesday night through Thursday. Seas building to 7-11 feet.
✔ Widespread minor coastal flooding is anticipated to impact the high tide Wednesday
night in Middlesex and Monmouth Counties, with potential for locally moderate coastal
flooding. Spotty minor coastal flooding is possible in Ocean County.